Model is 5'7" and is wearing a size XS/S.
This dress is recommended for:
How to wear
Style advice
Pull on the blouse strings to expand and tighten until it fits you comfortably.
Shoe Ideas
Gold or nude or black heels
Jewelry pairing
Statement earrings and bangles will complete the look - stay clear of a necklace since this blouse has a higher neckline.
Customer Reviews
12/26/2019
Alina

United States
Green elegance
The beautiful bold color caught my eye immediately. It was easy to put on and the skirt was thick and sturdy. The top has a very handy zipper running down the side in addition to the drawstrings all adding to the ease of use. Overall a simple but extremely elegant piece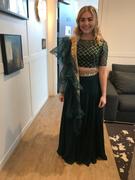 The dark green color of the outfit is perfect for a fall/winter wedding. The work on the outfit was so intricate and well stitched. The blouse had a drawstring back which made it easy to take on and off. And lastly, the ruffle dupatta was an added unique touch!