Model is 5'10" and is wearing a size XS/S.
This dress is recommended for:
How to wear
Style advice
Pull on the blouse strings to expand and tighten until it fits you comfortably.
Shoe Ideas
Gold or nude heels
Jewelry pairing
Statement earrings and bangles will complete the look. If you want to look fancy, add a chunky necklace or even a tikka (headpiece).
Customer Reviews
12/27/2019
Pri

United States
Great dress!
I loved the dress - it was very comfy and felt like it fit well in my size. The quality was great and would be perfect for a wedding reception.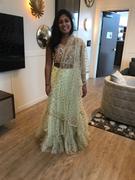 12/26/2019
Isabel

United States
Princess vibes
The Chamak Lengha fit me like a glove! My favorite part about it is the blouse. The details on it are beautiful; I loved the mesh ruffles on the sleeves, and the back of the blouse is trendy and modern. I felt like a princess the entire time and I wanted to keep the lengha for myself.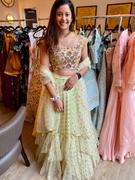 12/26/2019
Alisha

United States
Love!
I loved the chic, subtle details of the Chamak Lengha that made it feel both fashionable and expensive. The detailing of the top is absolutely exquisite and then paired with the polka dotted mint color made this outfit absolutely pop! What I love about Lukh is that you would never think about pairing the top and bottom together, but it comes together so well and so fashionably. The top was a little loose on my smaller 32b top/frame but you couldn't really tell with the ties in the back. Same for the skirt - felt a little loose at first (I'm a size 24 waist) but the straps made it feel secure.